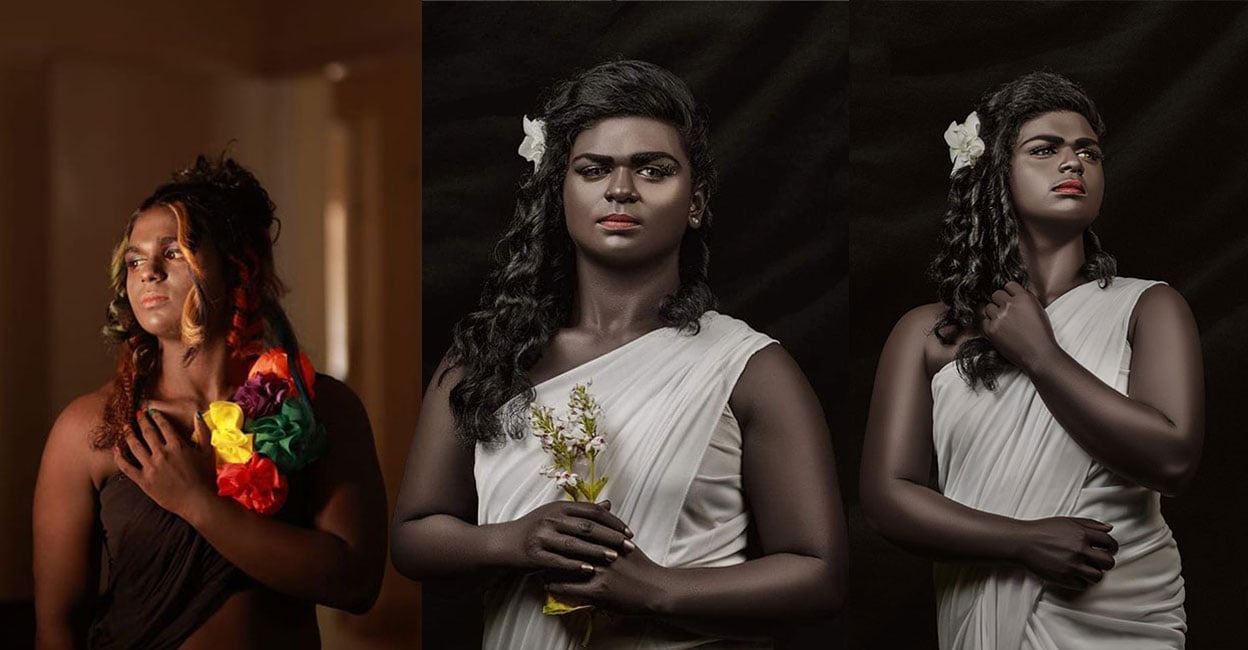 Model and bodybuilder Kajal Jenith
Is equity the criterion of beauty? Ok, forget it. How do you define beauty? I keep wondering? So look no further than this young lady for answers. She might raise several eyebrows in this context for a section of Malayalees. The Keralites will not soon forget 16-year-old Kajal Jenith.
This student from Thiruvanthapuram plus one redefined the traditional beauty standards of Kerala when she appeared on the cover of Vanitha magazine. For someone who has always been mocked and mocked for her skin color, she made her mark in a field that was considered the stronghold of righteous people, fashion photography. She learned to convert criticism into positive energy.
Today, it also dominates the field of bodybuilding. She recently won a gold medal in Thiruvanthapuram district female bodybuilding contest. Ask her what constitutes beauty in a woman, and she has an answer for you: "confidence."
Hard work paid off
I have been wrestling since 3rd grade and was trained by national trainer Sathish sir. It was during Covid times that I started training for bodybuilding as I couldn't do wrestling practice. To maintain my stamina, I started going to the gym. It was while training at the New Fitness Fist Gym in Varkala that I heard about this bodybuilding competition. This is how I joined the competition in Thiruvanthapuram.
When I started practicing, I weighed around 65 kilos. For two months, I trained rigorously and followed a strict diet. After the third month, I joined the contest. Initially I found it difficult as I am a food lover and hater of diets. But once I found my focus, it was easier to work towards my goal. Since the classes were online, I had plenty of time to practice.
Even though once school reopened I didn't have enough time, I still found time for it. I also managed to get good grades on my board exams. Currently I am studying for plus one at Kappil government school in Varkala. I am happy that my dream has finally come true. I am thrilled to win first prize in the District Women's Body Building contest.
If you have the will and hard work, you can win everything in life. And on this occasion, I would like to thank my coaches, Helen Shiva and Praveen Kumar.
Modeling is no one's fiefdom
Everyone has the right to live as they wish. We don't really need to live by what others tell us. Our life belongs to us. Do things that make you happy. No job is anyone's fiefdom.
There are many women who are afraid to venture into modeling, bodybuilding and sports because of what society will think of them. In my opinion, women should come forward and achieve their dreams. Their days of living in fear are over. Never back down from pursuing your dreams.
I always wanted to be a chef
I always wanted to be a chef. That's when modeling came to me. Although I receive offers, because of my studies, I don't have enough time to accept them. That said, whenever I receive good offers, I will not hesitate to accept them.
Actually, I want to pursue hotel management after plus two and become a chef. Of course, I intend to do modeling as well as bodybuilding. My next stop is the state championship. I also want to win this title and I will do my best.
I don't listen to criticism
Education is the most important thing in life. And everyone deserves to get a good education. There are still people who are kept out of the mainstream because of beauty, social status, religion, money and caste. If you go to college, followed by a good job, it's like half our problems are solved.
That's enough momentum to meet all of life's challenges. It is also the best answer to offer to those who have always ignored you. Let's do things we love and muster all the strength in the world to achieve it. Follow our dreams, ignore the critics and face your world with your head held high.
let me be who i am
At first, I felt bad when people commented on my skin tone. But then I started to take it in my stride. I hated being looked at. But now I'm glad people recognize me. All the criticism and taunts I listened to growing up gave me immeasurable strength. I started to take negative and positive feedback constructively. It was my parents who supported me like the Rock of Gibraltar.
My father works abroad. But my mother is there for everything. I'm their only child and they always told me to do what I love. Our people always discriminate against me based on my skin tone. But I decided to assume what I am. That's why when I was called for a photo shoot, I insisted that they capture me as I am. When I was little, I hated being photographed. But now it's a career option for me. I keep telling my makeup artist not to lighten my skin tone. Fortunately, modeling was a pleasant experience as they always presented me as I am. This photo session was a great source of encouragement for those who have always been discriminated against because of their skin color.
Trust is key
If you ask me, a woman's beauty is in her confidence, not in her complexion or appearance. Beauty is about confidently living the life you want. If you want to earn that trust, you must first love yourself and believe in your abilities. Never allow anyone to classify you based on your gender or the color of your skin. We should find our own way. Experience has taught me that if you pursue something with confidence, you will win it.
let the girls do what they want
It's about doing things we love. Not that you will always win. But with confidence, you can always get what you want. Ignore the chatter of society. The first step to independence is to get a good education. I think girls should pursue higher education and get good jobs. Any conversation about women shouldn't be limited to a women's day. They should be celebrated every day. Never let anyone pull you down. The important thing is to find that talent that is there in every person in this world. Never give up. Let your life be an example for others to imitate.